Ellyn Bader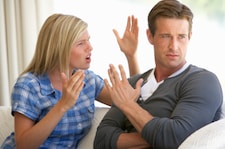 I consult on so many cases where therapists are struggling to be effective leaders with hostile angry couples, I know it is a widespread problem.
The more disorganized a couple is and the more hostility there is, the more difficult it's going to be for you to structure sessions and arrive at effective goals for each session.
Here's what makes the hostile-angry dynamic so challenging:
These couples often arrive for sessions still reeling from the fight of the week. They are hurt and angry and want the opportunity to unload their pain with a sympathetic listener (you) managing their partner. You end up being reactive rather than being an effective leader.
Favorite interventions of most therapists, such as empathy, non-judgmental reflection and pointing out vulnerability, just don't get anywhere or lead to sustained change when both partners are activated and responding reflexively to each other.
These partners move rapidly from one painful event to the next without any significant repair. So much hurt and damage has been done to their bond that each views the other as primarily an enemy.
These couples are often looking for quick fixes: they search for  loopholes that will make it all better without them having to stretch and grow themselves.
Often they rapidly escalate hostility and complaints so that whoever defines the problem controls more of the session and the other may shift to a helpless innocent victim position, leaving you stuck about how to make a difference.
And last, they may hold onto a rigid belief that they are entitled to a perfect symbiotic union!
All in all, this means we need to be on our toes and very clear-headed when working with these couples.
This article is part of a four part series. Read the others at the links below:
Goals of Early Therapy with Hostile Angry Couples
Suggestions for Working with Hostile Angry Couples
Part Four Coming Soon
Ellyn Bader, Ph.D., is Co-Founder & Director of The Couples Institute and creator of The Developmental Model of Couples Therapy. Ellyn is widely recognized as an expert in couples therapy, and since 2006 she has led innovative online training programs for therapists. Professionals from around the world connect with her through internet, conference calls and blog discussions to study couples therapy.
Ellyn's first book, "In Quest of the Mythical Mate," won the Clark Vincent Award by the California Association of Marriage & Family Therapists for its outstanding contribution to the field of marital therapy and is now in its 18th printing. She has been featured on over 50 radio and television programs including "The Today Show" and "CBS Early Morning News," and she has been quoted in many publications including "The New York Times," "The Oprah Magazine" and "Cosmopolitan."
Tags:
anger
,
change
,
goals
,
Hostile Angry Couples
Forward to a Colleague