Ellyn Bader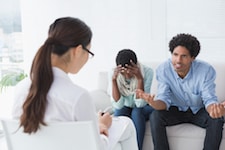 With certain presenting problems, it's obvious that some confrontation will be required. For example, the denial associated with drugs, alcohol or gambling addiction will inevitably require confrontation from either you or the spouse.
Also, the major lies and deceptions that happen with infidelity are often obvious in calling for confrontation.
However, there are some more subtle patterns, like symbiosis and regression, that also take skillful confrontation. Long ago I realized it would be impossible to do successful couples work without confronting the consequences of these behaviors. Without becoming skillful at disrupting symbiosis and recognizing and challenging regression, couples work will just skim the surface.
Another one of these subtle patterns that takes skillful confrontation is what I call a "hypocritical bind." This occurs when one partner demands something from the other that the partner making the demand is unwilling or unable to give.
Tough hypocritical binds have usually become entrenched over time and are not dismantled overnight.
The longer an intense hypocritical bind has dominated a relationship, the more difficult it will be to change the patterns that support it.
Join me now and watch this video.  In it I define hypocrisy and describe 4 types of hypocrisy with examples of each. After the video you'll see three steps for confronting hypocrisy.
As you can see, there is an art to confronting hypocrisy. The goal is to describe the bind clearly, promote self-reflection and instigate action.
You can begin just by listening carefully and looking for hypocrisies in your early sessions.
Look for the areas where one partner repeatedly feels angry and repeatedly concludes the same negative attribute about the other.
Ask yourself if you are seeing one partner demand something that they are unwilling or unable to give.
Effectively confronting hypocrisy takes the following three steps.
Step 1
Identify the hypocrisy to yourself.
Be sure you are clear what it is. See if you can imagine how the client might put it into words. The client is likely to verbalize only the first part of the bind. You might see something in their repetitive behavior that reveals the hidden part. For example:
I want unconditional love, but I won't give it.
I want to be happy, but don't bother me with your requests or desires to be happy.
I'll go to therapy, but only if we focus on what's bothering me and overlook what is bothering you.
Step 2
Next, gently describe the dilemma you see without making the client wrong.
For example, "You seem to be very involved when we talk about what is bothering you, but I notice you seem to disengage or quickly change the subject when your husband brings up what is bothering him. Are you aware of that pattern?"
Partners often  deflect and smoothly shift the topic away from what you've said. It will take pointing out the hypocrisy in more than one way without making the client wrong, because they usually won't act on key insights immediately.
Step 3
Look for a way to confront and describe the hypocrisy without putting yourself into the confrontation.
If you confront in a judgmental or parental way, it will create a struggle between you and the client. This will divert the energy away from the client's looking at him/herself.
Sometimes it helps to describe different aspects or parts of the person that are in conflict.
For example, you might say, "One part of you wants desperately to be loved unconditionally while another part of you seems to be stubborn and refuses to give the same to your partner. How do you make sense of that?"
Many partners in struggling relationships rationalize their lack of accountability and their minimal efforts while excusing themselves for acting in ways that devalue their partners.
Our desire to avoid feeling anxious or insecure may lead us to shy away from confronting hypocrisy. Sadly, everyone loses when we "wimp out."
My next lesson in this "mini-workshop" will give you seven ways to confront financial irresponsibility.
A Colleague's Comment on Training with Ellyn Bader
"I have been in private practice for over 35 years. I spent years studying psychoanalytic theory and technique. I committed to diligently attending Ellyn's online classes and studying the wonderful handouts that attendees receive. I have learned from the best about how to conceptualize and analyze individuals and couples. Ellyn and Pete will challenge you – right off the bat – to think differently than you currently are. They do it in a way that is stimulating, insightful, and warm and caring and direct, all at the same time. Participation with Ellyn in both Developmental Model online programs has changed the direction of my life, personally and professionally."
Deborah Hecker, Ph.D., Washington, D.C.
Act Now
Please comment below. Think about your own cases. Did reading this help you make sense of some hypocrisy you heard this week? If so, how? I look forward to reading your observations.
My online training program, Developmental Model of Couples Therapy: Integrating Attachment, Differentiation and Neuroscience, has an entire lesson and library of recorded calls on techniques such as Gestalt 2-chair work and the Initiator-Inquirer process to help clients see and understand these hidden parts of themselves. For more information click here.
This blog post is from a 5 day "mini-workshop" on confrontation. Click Day 1: Confrontation Video: 6 Types of Confrontation and How the Cycle of Confrontation Unfolds , Click Day 2: Confrontation Transcript: Indecision after Infidelity 
Ellyn Bader, Ph.D., is Co-Founder & Director of The Couples Institute and creator of The Developmental Model of Couples Therapy. Ellyn is widely recognized as an expert in couples therapy, and since 2006 she has led innovative online training programs for therapists. Professionals from around the world connect with her through internet, conference calls and blog discussions to study couples therapy.
Ellyn's first book, "In Quest of the Mythical Mate," won the Clark Vincent Award by the California Association of Marriage & Family Therapists for its outstanding contribution to the field of marital therapy and is now in its 18th printing. She has been featured on over 50 radio and television programs including "The Today Show" and "CBS Early Morning News," and she has been quoted in many publications including "The New York Times," "The Oprah Magazine" and "Cosmopolitan."
Tags:
confrontation
,
Couples Therapy
,
hypocrisy
,
video
Forward to a Colleague