Ellyn Bader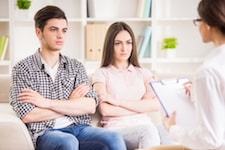 Confrontation skills did not come naturally to me. When I was growing up, if I had issues with my sister or my mother, my father sent me to my room  saying, "If you can't say anything nice, don't say anything at all."
As a therapist, it took concerted effort for me to learn how to be nice and make effective confrontations at the same time. I had to learn how to make incisive confrontations or watch couples repeat the same negative patterns over and over.
To be effective, you must be able to hold up a mirror so that partners can see (and recognize non-defensively) what they are doing and how they are getting in their own way. And perhaps most important of all, you must induce the optimal level of anxiety into your confrontations so partners become motivated to change without even realizing you've confronted them.
So, as we begin our mini-workshop on confrontation, let's define confrontation. I found my favorite definition of confrontation in Webster's Unabridged Dictionary.
Confrontation is a technique used in therapy to recognize shortcomings and their possible consequences.
In other words, in a confrontation you describe where each partner is stuck, showing them how they are preventing the growth of their relationship and then providing a way out.
Join me now and watch this 9-minute video to discover:
The 6 types of confrontation
The cycle of confrontation that takes place in almost every couples therapy session
Click here to download your handout, The 6 Types of Confrontation.
Act Now
In the comment section below, please tell me how knowing these six different types of confrontation might be helpful for you, or share your reactions to the video.
In my online training program, The Developmental Model of Couples Therapy: Integrating Attachment, Differentiation and Neuroscience, you'll see clinical videos that show even more about confrontation. Click Developmental Model to read about the training program.
A Colleague's Comment on Training with Ellyn Bader
"Ellyn's online clinical training has enabled me to be even more confident in my couples work. I have participated in various trainings focused on couples therapy, but I have found her developmental framework and training to be exceptional."  
Cathy Marakovits, LCSW, Marietta, GA
This blog post is from a 5 day "mini-workshop" on confrontation.  Click for Day 2: Confrontation Transcript: Indecision after Infidelity, Click for Day 3: Confrontation Video: Challenging Hypocrisy, Click for Day 4: Confrontation Options: Financial Irresponsibility, Click for Day 5: Confrontation Transcript: Disrupting Hidden Symbiosis 
Ellyn Bader, Ph.D., is Co-Founder & Director of The Couples Institute and creator of The Developmental Model of Couples Therapy. Ellyn is widely recognized as an expert in couples therapy, and since 2006 she has led innovative online training programs for therapists. Professionals from around the world connect with her through internet, conference calls and blog discussions to study couples therapy.
Ellyn's first book, "In Quest of the Mythical Mate," won the Clark Vincent Award by the California Association of Marriage & Family Therapists for its outstanding contribution to the field of marital therapy and is now in its 18th printing. She has been featured on over 50 radio and television programs including "The Today Show" and "CBS Early Morning News," and she has been quoted in many publications including "The New York Times," "The Oprah Magazine" and "Cosmopolitan."
Tags:
confrontation
,
types of confrontation
,
video
Forward to a Colleague