Ellyn Bader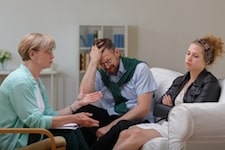 Moving along in our series on confrontation, I wanted to share a series of confrontations  made by my husband, Peter Pearson, during a 90-minute session with a couple facing indecision after infidelity.
Observe how his confrontations move from softer to more intense.
Jeff and Julie came for their first session after being married for 40 years. Jeff was in the midst of an affair and Julie was very depressed. Jeff was severely conflicted. Should he stay married or go with Clara, his new love?  He was also "shopping" for therapists and had already been to several.
Jeff was approaching his indecision from a passive, but painful position. In the following sequence, my husband Peter gradually intensified his confrontations.
We pick up about 40 minutes into the session after Pete has been empathic with each partner and inquired a lot about their situation.
Pete:
So Jeff, why are you here?
Jeff gives a long tangential response that is not an answer to the question.
Pete:
Jeff, I'll ask again, why are you here?
Jeff again gives a long response about his indecision.
Pete:
Have you considered that if you don't make the decision, your wife may make it for you?
Jeff:
[laughs nervously] And both women could make it for me.
Pete:
In that case, let me lean on you a little harder. You know that you have a decision to make. Why are you here? And where do I fit into the struggle that is within you?
Jeff talks more about his indecision and how it is agonizing to decide.
Pete:
You are really split. Do you realize that staying split is both a problem and a solution?
Jeff:
[looks startled] Do you mean being so indecisive serves me somehow?
Pete:
Yes, as soon as you decide, one part of you will feel enormous regret, despair, depression and grief. For now, it is more tolerable to respond to both sides than it is to decide, take action and then feel regret and depression from making a painful choice.
Jeff:
There are so many good things about both of them.
Pete:
That is right. You are stuck in an approach-approach and an avoidance-avoidance conflict. Should you go with Miss America or Miss Universe? Do you realize that staying stuck is your way to try to balance that pleasure-pain dilemma?
Jeff continues to look more startled and Pete goes on….
Pete:
The interesting thing is this. Even a  blinding flash of insight won't take away your painful choice.
Jeff:
I can't decide. But if I don't decide, I think I will implode.
Pete:
I don't think so. Let's just say if we get real now, no matter what you do, a part of you is going to feel bad and there is no way we can finesse it.
Jeff agrees.
Session is winding down. Pete asks whether they want to come back.
Pete:
So, I know you are checking out several therapists. And as you are shopping for therapists, please remember that all I can offer you is pain.
Pete asks again if they want to come back. Jeff tries to shift the decision to his wife. Pete refuses to accept this. Jeff and Julie decide to go out for breakfast to discuss it together and decide.
Jeff called Pete three days later and asked for another session saying, "I selected you because you took me on."
Act Now
In the comment section below, please list any of Pete's interventions you recognize as 1) soft, 2) empathic, 3) gentle, but tough, 4) indirect, 5) hard/tough or 6) bombshell. Or write about what you find useful in reading how the confrontations evolved.
In my online training program, Developmental Model of Couples Therapy: Integrating Attachment, Differentiation and Neuroscience, we frequently use transcripts like the one on this page to demonstrate interactions between therapists and couples, and to discuss pressure points for confrontation and growth. To learn more about the program, click Developmental Model.
This blog post is from a 5 day "mini-workshop" on confrontation. Click for Day 1: Confrontation Video: 6 Types of Confrontation and How the Cycle of Confrontation Unfolds
Ellyn Bader, Ph.D., is Co-Founder & Director of The Couples Institute and creator of The Developmental Model of Couples Therapy. Ellyn is widely recognized as an expert in couples therapy, and since 2006 she has led innovative online training programs for therapists. Professionals from around the world connect with her through internet, conference calls and blog discussions to study couples therapy.
Ellyn's first book, "In Quest of the Mythical Mate," won the Clark Vincent Award by the California Association of Marriage & Family Therapists for its outstanding contribution to the field of marital therapy and is now in its 18th printing. She has been featured on over 50 radio and television programs including "The Today Show" and "CBS Early Morning News," and she has been quoted in many publications including "The New York Times," "The Oprah Magazine" and "Cosmopolitan."
Tags:
confrontation
,
indecision
,
infidelity
,
transcript
Forward to a Colleague