Ellyn Bader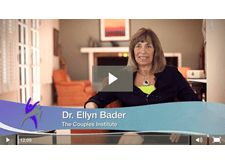 Click below to watch this video about the troublesome traits of the self-absorbed partner.
You'll want to make sure and catch the following…
2:38, a confession about my counter-transference
3:45, two examples of self-absorbed partners
5:00, how self-absorbed partners behave
7:25, why self-absorption is a problem for the spouse
10:00, my clinical conclusion about what self-absorbed partners lack
You can also click here to read a transcript of the video.
As you can see, self-absorbed partners can be quite challenging, but you're on your way to working with them successfully.
And I'd still like to know – do you have a recent example of self-absorbed behavior? If so please share it below.
Thanks for your participation in this revealing series on self-absorbed partners,
Ellyn
To continue on from here with this series, please click here for parts two, three and four.
Ellyn Bader, Ph.D., is Co-Founder & Director of The Couples Institute and creator of The Developmental Model of Couples Therapy. Ellyn is widely recognized as an expert in couples therapy, and since 2006 she has led innovative online training programs for therapists. Professionals from around the world connect with her through internet, conference calls and blog discussions to study couples therapy.
Ellyn's first book, "In Quest of the Mythical Mate," won the Clark Vincent Award by the California Association of Marriage & Family Therapists for its outstanding contribution to the field of marital therapy and is now in its 18th printing. She has been featured on over 50 radio and television programs including "The Today Show" and "CBS Early Morning News," and she has been quoted in many publications including "The New York Times," "The Oprah Magazine" and "Cosmopolitan."
Tags:
self-absorbed partners
Forward to a Colleague