Ellyn Bader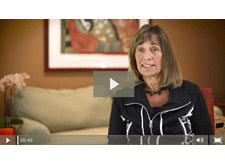 Click here to better understand the many challenges self-absorbed partners create for couples therapists.
Here's what you'll learn:
what happens when attention is not focused on the self-absorbed partner
the primary orientation of self-absorbed partners
what self-absorbed partners actually do well
six challenges self-absorbed partners create for you, some you may not even realize
how to name the problem while helping self-absorbed partners save face in therapy
use the continuum of engagement as both a measure of progress and as a key indirect confrontation
You can also click here to read a transcript of the video on self-absorbed partners.
In the video I mention a new tool called the "Engagement Continuum." I designed it to help self-absorbed partners assess themselves and select desired progress. Download it here and use copies with your clients.
In a few days, I'll send you an in-depth look at shifting the entrenched intrapsychic world of the self-absorbed partner.
In the meantime, please write a comment below. I'd appreciate your sharing a strategy you've used with your self-absorbed clients and how it worked. Whether or not it was successful, we can all learn from it.
It's great to have your energy for exceptional couples therapy as we navigate these tricky waters,
Ellyn
If you missed the first video in this series on Self-Absorbed Partners, you can click here to see it.  If you'd like to advance in the series, please click here for parts three
and four.
Ellyn Bader, Ph.D., is Co-Founder & Director of The Couples Institute and creator of The Developmental Model of Couples Therapy. Ellyn is widely recognized as an expert in couples therapy, and since 2006 she has led innovative online training programs for therapists. Professionals from around the world connect with her through internet, conference calls and blog discussions to study couples therapy.
Ellyn's first book, "In Quest of the Mythical Mate," won the Clark Vincent Award by the California Association of Marriage & Family Therapists for its outstanding contribution to the field of marital therapy and is now in its 18th printing. She has been featured on over 50 radio and television programs including "The Today Show" and "CBS Early Morning News," and she has been quoted in many publications including "The New York Times," "The Oprah Magazine" and "Cosmopolitan."
Tags:
engagement continuum
,
self-absorbed partners
,
video