When working with a couple in the aftermath of infidelity, how do you approach lies and a history of deception? When is a lie "just a little white lie" and when is it much more serious? Is it a common pattern of deception, does it represent a developmental issue, or is it a character issue?  How likely is it that a partner will continue lying to you? Does that change what you do and, if so, how?
In my presentation on lies, deception and confrontation in couples with infidelity, I discussed how important it is for the therapist to know what types of lies and deception are involved in a betrayal. I outlined four main types of lies that occur in marriage and committed partnerships: Loving Lies, Conflict-Avoiding Lies, Passive-Aggressive Lies and the great big Felony Lies.
As I present the following transcript from a recent case of a couple who came in, after she discovered his affair with a mistress.  What is your view about the types of lies he told, and what appears to be central as I learn about the history of deception?
The husband started their first session with me by saying, "I had an affair. My wife discovered the affair by finding out about a gift I bought for the other woman."
This was just the tip of the iceberg I discovered as I pursued his pattern of lying and deceiving.
Ellyn: What happened next?
Husband: I said I'd break it off. And started to…but then I thought, well I think I want a divorce so what difference does it make what I do? I began lying more and adding one lie on top of another.
This was a red flag that made me realize I needed to know a lot more than "he had an affair." Pursuing more information about the types of his lies could give me an essential window into what was wrong, what went wrong and how to structure the early phase of therapy.
Ellyn: I'd like to know about the lies you thought were pretty insignificant and about the worst lies you told?
Husband: I lied about having to work late and I lied about going to prostitutes. I convinced myself I was not betraying the marriage because I had no emotional attachment to the prostitutes. I talked myself out of believing it was a betrayal.
The plot thickens as I learn more about how he deceived himself as well as his wife.
Ellyn: Were there other lies you told to avoid conflict?
Husband: Yes, I told my wife I was going on a business trip to New York when I took my mistress to Paris.
Ellyn: What did you do when your wife began to suspect?
Husband: I said things to her like, "You are making things up. You are a crazy person."
Ellyn: How long did this go on?
Husband: For months and months. This wasn't the first time. Before it was with prostitutes. This time I said she was crazy and making things up, that there was no affair.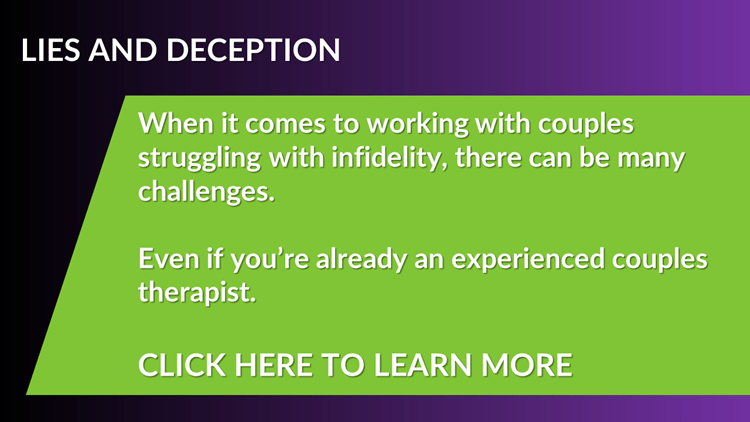 In a relatively short time in the first session I've learned that the husband has lied and deceived his wife for years. He's told substantial conflict-avoiding lies and "felony" lies. By "felony" lies, I mean the big lies that have enormous impact on a spouse such as lying about unprotected sex, about having sex with very close friends or family members or attacking a partner's sanity when they suspect.  He'd also deceived himself substantially in order to protect his lifestyle and continue his patterns.
As the history of the marriage was recounted to me in this session, I learned they had a long-term marriage with two adolescent children.  They had an intensely positive and very sexual beginning. Problems intensified when the wife stopped working after the birth of the second child.
They were unable to reconnect sexually, and were unable to manage the stresses of his work/travel schedule vs. the needs of their children. They developed a pattern of alternating periods of silence and withdrawal and periods where the wife would scream and yell at him. There was no drug or alcohol abuse.  The wife wanted desperately to keep the marriage, and the husband was uncertain about whether to stay married or get a divorce and go with the new woman.
Given the unfolding history, what would be your considerations in structuring treatment? What would be some considerations for you in structuring the next session? And what might you say to them at the end of the first session?
I'd like to wrap up this series on the Infidelity Conference with a few points from the final panel.
Final Panel
The day finished with an extremely lively panel discussion moderated by none other than Dr. Peter Pearson and Judith Anderson. Try to imagine a panel of marital experts all attempting to agree on how to handle infidelity. And boy did the theoretical sparks fly! Interruptions galore, spontaneous declarations of disagreements, humorous asides, and the occasional heartwarming response of, "Beats me" kept everyone entertained.
Pete had the enormous challenge of keeping us all on track. I think he especially enjoyed alternately stopping Julie Gottman and me from talking too much, so the audience could ask more questions.
All in all the faculty and audience were highly stimulated by the unanswered questions, the challenges of infidelity in western culture, and how to move our treatment paradigms beyond crisis/recovery and perpetrator-victim models.
Perhaps the biggest takeaway from the conference was indirect. It wasn't just the inevitable different perspectives thoughtfully defended. It was the underlying respect of the differences, skills and experiences of diverse colleagues that made the panel interesting, informative, entertaining and even poignant at times.
The panelists embodied what we attempt to teach our couples: strong and honest disagreement often leads to a more evolved way of approaching and thinking about difficult problems.
It was differentiation in action.
Now please take a few minutes to comment on the case. It will help stimulate a good discussion.
Ellyn
P.S. If you'd like to learn more about my Developmental Model Program click here.
We help couples struggling with adultery in Menlo Park, San Francisco, San Mateo, Redwood City, San Jose, Campbell and the surrounding areas.