Ellyn Bader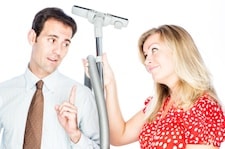 "Chore Wars" are a common problem for couples: 1) sharing housework 2) negotiating the schedule for chores 3) agreeing on standards that are acceptable to both partners.
It's a problem that won't go away. Bathtubs get grimy, dust bunnies multiply in corners, clutter accumulates everywhere – as surely as the sun will rise tomorrow.
It took us awhile to figure out a no hassle solution to our shared housework, and we've created a short video on it. Check it out – and then share your ideas for replacing the "Chore Wars" with peace on the homefront.
Ellyn Bader, Ph.D., is Co-Founder & Director of The Couples Institute and creator of The Developmental Model of Couples Therapy. Ellyn is widely recognized as an expert in couples therapy, and since 2006 she has led innovative online training programs for therapists. Professionals from around the world connect with her through internet, conference calls and blog discussions to study couples therapy.
Ellyn's first book, "In Quest of the Mythical Mate," won the Clark Vincent Award by the California Association of Marriage & Family Therapists for its outstanding contribution to the field of marital therapy and is now in its 18th printing. She has been featured on over 50 radio and television programs including "The Today Show" and "CBS Early Morning News," and she has been quoted in many publications including "The New York Times," "The Oprah Magazine" and "Cosmopolitan."
Tags:
Chore Wars
,
household chores
,
sharing housework
Forward to a Friend
Forward to a Colleague