Ellyn Bader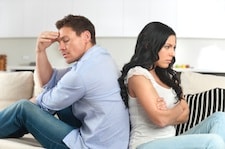 Helping partners develop clearer separation between self and other
This is the third part of a series in which I have shared sections of a session on shifting relationship impasses in a couple with conflict avoidance and encouraged comments and questions from readers. Thank you to those of you who have participated in our dialog on the blog.
In this portion of the session, because the wife has taken more of a risk, I decide to stay with helping her express more while simultaneously seeing if her husband can get any separation from her.
By separation I mean,
Can he see her as a separate person?
Can she have feelings that are her own and not a reaction to him?
Can he stay involved in the discussion without personalizing her feelings?
Ellyn: I can see that this conversation is scary for both of you. (To husband) I think your wife is trying to describe to you an experience she is missing and wants to have. It may not have anything to do with you. Could you try for a few more minutes to focus just on her? Perhaps you could ask her what writing so many lists at home has to do with fun and freedom?
Husband: What did you mean about writing lists?
Wife: (She is quiet for awhile and then cautiously says) I seem to never catch up at home. I'm always scrambling to be on a schedule.
Husband: Like what?
Wife: There are meals to cook, groceries to buy. The kids need stuff for school and every school has a different schedule and different requirements. Sometimes I can't keep it all straight.
Husband: But I thought you liked going to meetings and volunteering at school.
Wife: I do like volunteering. And don't you want me to do it? I thought you were glad I was keeping an eye on the kids at school and seeing their teachers in action.
Husband: Yes, I am thankful that you are doing that.
Ellyn: I am struck by how easy it is for both of you to move away from her desire. (To wife) Your wishes are just beginning to be expressed. I think it would help you to dig deeper and see what this desire symbolizes.
Wife: All I can think of is I get away from responsibility for two days.
Ellyn: So let's assume that matters a lot to you – an escape from lists and responsibilities. Will you say more about the freedom?
Wife: Yes, I could walk on the beach, read and go to dinner if I wanted or not go to dinner. And I would not have to cook it.
Ellyn: (To husband) Will you ask her how she would feel not being on a schedule?
Husband: Okay. What would you feel?
Wife: Like I could breathe – a lightness.
Husband: Do you ever feel that way when we go out at night?
Wife: No. I worry about being home in time for the babysitter and if you are having a good time.
What are you learning about this couple and about them as individuals? Please think about that before you read the rest of this transcript.
What are some of the wife's struggles?
How is the husband doing with my assists?
Has he progressed or is he still responding mainly from anxiety?
Ellyn: (To wife) You seem to drive yourself pretty hard.
Wife: I do like to get it right and get it all done. But, sometimes I am overwhelmed by the amount to do.
Ellyn: And is it hard to stop making demands on yourself?
Wife: Very hard.
Ellyn: (To husband) Are you learning anything about your wife?
Husband: That she has a lot of chores.
Ellyn: And how is that connected to her desire to go away?
Husband: I just had an insight. My work is finished when I come home at night. Hers lasts into the evening. I can get a break and she can't.
Ellyn: Will you tell her what you understand about her reaction to having so many chores?
How would you wrap up this session? Please take a few minutes to share your thoughts in the comment section below.
Again, I really appreciate your participation on this blog. Creating a lively discussion here allows everyone to stretch and grow. And I like the idea of couples therapists from around the world – professionals who often work in isolation – engaging in a stimulating exchange of ideas and recognizing that they are part of a lively group of dedicated professionals. Keep up the great work.
Ellyn Bader, Ph.D., is Co-Founder & Director of The Couples Institute and creator of The Developmental Model of Couples Therapy. Ellyn is widely recognized as an expert in couples therapy, and since 2006 she has led innovative online training programs for therapists. Professionals from around the world connect with her through internet, conference calls and blog discussions to study couples therapy.
Ellyn's first book, "In Quest of the Mythical Mate," won the Clark Vincent Award by the California Association of Marriage & Family Therapists for its outstanding contribution to the field of marital therapy and is now in its 18th printing. She has been featured on over 50 radio and television programs including "The Today Show" and "CBS Early Morning News," and she has been quoted in many publications including "The New York Times," "The Oprah Magazine" and "Cosmopolitan."
Tags:
anxiety
,
conflict avoidance
,
Husband Yes
,
transcript
,
Wife No
,
Wife Yes
Forward to a Colleague