Ellyn Bader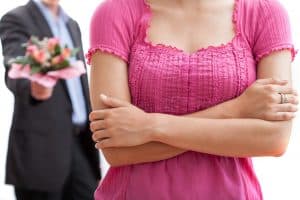 In a recent blog post I outlined some of the ways I work with couples who are caught in patterns of externalization and blame in their relationships.
If you missed it, you can check it out here.
In that blog post I presented some ideas for pushing the growth edge in these partners. I ended with the question, "But what if you're beginning to sense that one of the partners isn't as invested in this process as the other?"
If you've been working with couples for any length of time, you've likely seen instances where one partner doesn't seem as invested in the relationship as the other.
For example, let's say that you've been working with a couple and given them an assignment to come up with a plan for spending more time together.
When they come back to see you, perhaps the male partner says, "Well, I tried to check in with her, but she went right back to her email and spreadsheets." He doesn't acknowledge that he really made no effort to do the assignment.
At this point, you can see he's being evasive and trying to sidetrack your efforts at helping the couple connect.
He's shifted the focus away from himself and returned to an all-too-familiar pattern of blame.
So how can you help a couple like this move forward?
Acknowledge and draw attention to the avoidance, an aspect of externalization and blame that I introduced in my previous blog post. Ask why it was so difficult to make the plan you assigned.
Now this can be a real pivotal moment because you may be on the brink of exposing the other partner's worst fear – that he may not be as committed to the relationship as she is.
But as painful as this conversation could be, bear in mind that the couple has been living with this reality, and reacting from it probably for years. Unless you can assist them in
bringing it out into the open, they're going to continue to live with a kind of quiet disconnection or subtle pattern of rejection.
So you might say to him, "Well, instead of shifting to her right now, let's go back. It sounds like a big part of you didn't actually want to work on a plan for spending more time together. So we have a part of you that wanted to be with her a little bit more, and for right now, a bigger part that didn't want to. Let's take more time to learn about your evasive part."
Explore the obstacles that are getting in the way of deeper connection and intimacy.
You may find that he or even both partners never witnessed intimacy when they were growing up.
In addition, each partner likely has other issues that you'll want to help them face and work through separately. You may encounter unresolved trauma or insecure attachment issues that may be present.
This is where it becomes crucial that you've laid the groundwork for each partner to begin making the shift from an external to an internal locus of control.
As you help both partners grapple with their own history, each will start to see and acknowledge the parts of themselves that actually do want connection.
Help each partner identify and articulate what they want.
When a couple has been stuck in a pattern of externalization and blame for any length of time, they may have become used to expressing their emotions only in the negative – in terms of what they don't want from each other.
This is where we want to encourage each partner to speak up for themselves with gentleness and vulnerability, rather than criticism and blame.
As each partner grows in the ability to articulate their desires, and hear and respond to the other, they can begin to move toward what they actually do want from their relationship.
And this creates real opportunity for change and transformation – both for each partner, and as a couple.
For more ideas you can use in you work with couples, please check out our resource called Ending Chaos, Mayhem, and Verbal Violence.
Now I'd like to hear from you. How could you use one of these ideas in your work with couples? Please leave a comment below.
Ellyn Bader, Ph.D., is Co-Founder & Director of The Couples Institute and creator of The Developmental Model of Couples Therapy. Ellyn is widely recognized as an expert in couples therapy, and since 2006 she has led innovative online training programs for therapists. Professionals from around the world connect with her through internet, conference calls and blog discussions to study couples therapy.
Ellyn's first book, "In Quest of the Mythical Mate," won the Clark Vincent Award by the California Association of Marriage & Family Therapists for its outstanding contribution to the field of marital therapy and is now in its 18th printing. She has been featured on over 50 radio and television programs including "The Today Show" and "CBS Early Morning News," and she has been quoted in many publications including "The New York Times," "The Oprah Magazine" and "Cosmopolitan."
Tags:
avoidance
,
externalization and blame
,
insecure attachment
,
unresolved trauma
Forward to a Colleague