Ellyn Bader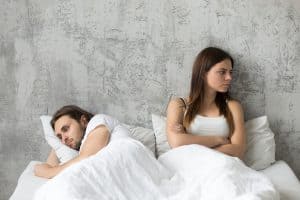 In spring of 2018 I wrote a blog post about the cycle of externalization and blame. This dynamic is a familiar one for couples therapists because so many of the couples who come to see us organize their relationship issues around external symptoms or problems.
How many times have you heard complaints like these?
"He drinks too much

."

"She spends too much money."

"He never makes time for me and the kids."

"She treats her parents like royalty and me like dirt."
For people in discomfort about their relationship, it's much easier to deflect responsibility and attention from themselves and blame their partner than it is to self-reflect.
In my original blog post on this topic, I introduced the importance of shifting that focus and I presented three different ones that might help disrupt the gridlock. You can read that blog post here.
One of the reader's comments after the blog mentioned the loss of intimacy for these couples who are stuck in externalization and blame. And that leads me to today's post. First, let's look at some ways of grounding our interventions so we can get the couple's commitment for growth. Then let's see how we might explain "intimacy avoidance" to couples and use it as leverage to start working for that needed growth.
Grounding Our Interventions
When we begin working with a couple, it's important to communicate our commitment to supporting relationship growth.
Both partners need to see that, in order for the relationship to grow, it's going to take individual change from each of them. It's going to take recognizing what they're each doing that's been getting in the way of relationship growth
Each partner can start to see that they're contributing to the standoff.
When we begin by grounding our work in this way, we start creating the leverage we'll need to make stronger confrontations.
It's also crucial to show that we have a lot of compassion for where they've come from and how hard this is for them.
I might approach that in this way:
"Who you are as people, and how you each have coped with your own backgrounds has led to your not knowing how to make intimate connection in your marriage.
If we can establish the fact that there are ways each of you do this, and that you are unaware of those ways, we can begin to make it not so much about blaming each other.
Let me help you take a look at how you each run away, because right now you don't see how you're doing it. You didn't have good role models.
You haven't had good experiences with each other when one or the other of you has reached out. You don't know how to get moments happening where you can reach out and be met.
You guys have been missing each other for such a long time that it is going to take you letting me help you. It is going to take an openness to looking at how you're getting in your own way."
Calling Attention to Intimacy Avoidance
Once a couple has agreed to work on both their relationship as well as individual growth, the next step is to help them identify how each one avoids intimacy.
One powerful way to help couples do this is by simply calling attention to it. Acknowledging it. Describing it.
Perhaps you've given a homework assignment to a couple. You've asked them to make a commitment to spend more time together in the coming week.
Maybe they followed through, or at least tried to. Yet they came back to you having fallen back into the same pattern of externalization and blame:
"I tried reaching out, but she was on her computer all night. We went to a party together, but he ended up talking to his buddies all night."
This is where I might say, "I think I'm hearing that there were a lot of times that you were around each other, but neither of you felt together. Did I get that right?"
That's an attempt to at least acknowledge that you're seeing their intimacy avoidance. You're calling it and drawing their attention to it.
But let's say the couple didn't follow through at all. Then what?
That's when I find it useful to say something like this:
"It sounds like a big part of you didn't really want to spend time together. That would've meant one of you walking over to the other and saying, 'Will you join me?' Or, 'I'd like to be with you,' or something that would express vulnerability."
Again, empathy is so crucial here. It's important for our clients to know that we appreciate why they feel the way they do – that you can see the loneliness. You see their isolation.
You can equalize their defensiveness by saying, "Each of you has different ways that you're perpetuating this, because you guys don't know how to create intimacy. You've never done it. You don't know how."
I would look them each in the eye and I might say to her, "Are you going to let me help you with the part of you that runs away, or has trouble seeing him as scared too?"
I'd look at him and I might say, "Are you going to let me work with the part of you that doesn't want to risk more connection? The part that may feel scared, or even vulnerable, or lonely? Are you going to let me help you with that?"
It's so important that you get their agreement that they're going to let you in. At the same time, you're also spelling out for them the work they have ahead.
But what if you're beginning to sense that one of the partners isn't as vested in this process as the other? That he or she isn't really willing to commit to the work it will take to grow not only in the relationship, but on a personal level as well?
I'll be writing about that in my next blog post.
In the meantime, I'd like to hear from you – how could you use some of these ideas in your work with couples? Please leave a comment below.
Getting couples to commit to their own individual growth for the sake of their relationship is an important part of getting off to a strong start in your therapy sessions. Rethinking First Sessions shows you how to conduct a first session that delivers relief and creates traction for future growth in your office. Click here for more information on this downloadable 60-minute audio and written summary.
Ellyn Bader, Ph.D., is Co-Founder & Director of The Couples Institute and creator of The Developmental Model of Couples Therapy. Ellyn is widely recognized as an expert in couples therapy, and since 2006 she has led innovative online training programs for therapists. Professionals from around the world connect with her through internet, conference calls and blog discussions to study couples therapy.
Ellyn's first book, "In Quest of the Mythical Mate," won the Clark Vincent Award by the California Association of Marriage & Family Therapists for its outstanding contribution to the field of marital therapy and is now in its 18th printing. She has been featured on over 50 radio and television programs including "The Today Show" and "CBS Early Morning News," and she has been quoted in many publications including "The New York Times," "The Oprah Magazine" and "Cosmopolitan."
Tags:
externalization and blame
,
grounding interventions
,
intimacy avoidance
Forward to a Colleague