Ellyn Bader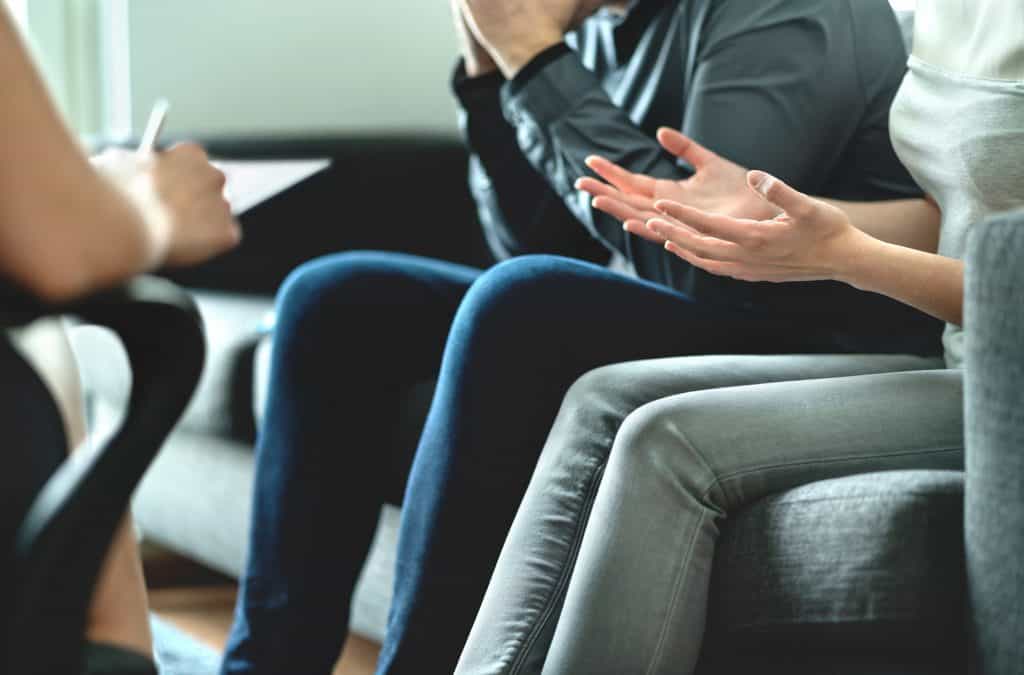 Therapists who train with me know that many couples who come to therapy are stuck in symbiotic patterns that impede the growth of each partner and also impede the tremendous growth potential that exists in any committed relationship.
Today I want to share with you a transcript of a couple where the female partner's symbiotic yearnings have been hidden. In past sessions, the male partner has been attentive to her requests. She has frequently danced away from what matters to him. This couple is trying to decide whether or not to get married. The reason they are stuck has been hidden.
The female partner presents as the more mature grounded partner. She is decisive where her boyfriend is anxious and conflicted. In this session I decided to confront her and expose why they are stuck.
She had been avoiding discussing his requests for several weeks.
Ellyn:
Let's regroup a bit today. The two of you came to therapy to make a decision about whether or not to get married. I'd like to review where each of you are now on that decision.
Jack:
I am still very undecided. We are so comfortable together and we have a lot of fun. I wish it was an easy decision. But there are some big issues that are unresolved for me.
Ellyn:
(To Sarah) Do you feel like you've made a decision for sure about whether you want to be in a committed partnership with Jack or not? Are you clear?
Sarah:
Yes. I'm very clear. I've been clear for a long time.
Sarah:
I am very ready to get married. More than ready.
Ellyn:
I'd like to know more about your certainty. Will you say more about your decision? How did you decide? Why are you so certain?
Sarah:
He treats me well. He's different than my ex-husband. He's attentive and caring. He's calm. He doesn't get rattled very easily. He's honest. I feel like I can trust him.
Ellyn:
And that's extremely important to you?
Sarah:
Yes. Especially that he's caring and not explosive.
Ellyn:
It's a relief that he does not get angry like your ex-husband. You value his solidity and how he is caring with you. You feels safe with him.
Sarah:
Yes, it's really important, my ex went from being explosive to being dishonest. My last marriage ended in divorce after an affair. I don't ever want to be in a relationship where there's a potential for that again.
Ellyn:
So, we've been talking about what you value and the reassurance you get from being with him.
Sarah:
Yes and I don't think there is anything we can't work out.
Ellyn:
So, we're talking about you putting both feet in and making a lifetime commitment to Jack. You've been with Jack long enough to know what you value.
I wonder how much you've thought about the challenges and the fact that he's been pushing you in some areas that aren't very comfortable for you.
Sarah:
Yes, he's been doing that. Most of those are not that big. He changes his mind a lot, so I don't think they are really that big. I think that's happening already. I wish he would just stop changing his mind. We can solve those things easily later. I'm not really clear what he's looking for because it keeps on changing.
Ellyn:
And how much do you ask to get clear on what really matters to him? What are the main areas that you think matter to him? Where do you think he's going to keep pushing on you to change? Will you reflect for a minute on what you've heard him say?
Sarah:
Being on time. Keeping commitments.
Ellyn:
What kinds of commitments?
Sarah:
Money is a big one. But I feel like I have changed in that area. I don't think he notices that I'm not overspending.
Ellyn:
Why does keeping commitments matter to him?
Ellyn:
I think it is more than that. You probably remember from a lot of our past conversations that money has been a traumatic area for him. It's an area where it's important to him that you're able to step up. It's going to be an ongoing issue for you to understand how much this means to him.
Sarah:
I'm never going to measure up because I'll never earn what he does.
Ellyn:
Wait. Stop. You are shifting a bit away from what I'm saying to you. I'm really asking if you realize that if you put both feet in and get married then you're going to be pushed by him about money until you both sort this out better.
Sarah:
Yes. I know he's going to push me about money. But, I'm not quite sure what more I can do.
Ellyn:
Actually, it is the opposite of that. You are just scratching the surface. There's so much more you can learn and do to be an involved partner with him. I think the way you are responding to me right now is part of what makes him anxious about committing.
Sarah:
Tell me what I can learn.
Ellyn:
One thing you can learn is more about why this area is scary for him. You can explore his fears and understand them a lot more. You can understand how it affects him when you don't keep financial commitments.
When you understand this deeply, you will allow it to impact you more than now.
You'll learn to negotiate better when spending on expensive purchases. You won't dance away from conflict or hide expensive spending choices.
You'll initiate some of the discussions about how you two will divide expenses so you'll each know what you are providing financially.
I wonder what you're feeling as I'm saying these things to you?
Sarah:
I'm feeling a little defensive with you bringing up my debt.
Ellyn:
I can understand you feeling defensive because I am holding up a challenging picture to you. And no, we're not talking about your debt. We're talking about the process of how the two of you handle financial issues together going forward.
Sarah:
Okay, if not my debt, then what?
Ellyn:
Actually I have not mentioned your debt. This isn't about your debt. This is about you being a whole partner in an area that is very vulnerable for him. It means you understand why this is traumatic for him. You learn how to problem solve better with him so that each of you knows what you're contributing financially.
Because he earns more money and has more assets, this is a complex issue for couples in your situation. However, it means you don't shy away from figuring this out. It means you both figure out what makes sense based on your income and his income. It means you become able to step up to the plate as a true team player with him in this area.
He's been the caretaker in his past marriages. This time he's more cautious. He's moving slowly so he can be sure he's marrying somebody who can give to him in ways that really matter to him.
Being with someone kind, caretaking, non-aggressive and honest really matters to you. You don't every want another divorce or to be with a husband who is having an affair.
Being with someone financially responsible matters to him. He never wants to face another bankruptcy or feel so alone.
How would it be for you if we spend the next couple of sessions seeing if we can make progress on these things?
Your understanding him better
Your learning more about how to partner with him financially – and remember this does not have to do with your debt. It has to do with your involvement where he feels vulnerable.
This session is about the confrontation of symbiosis, Sarah's low level of other-diferentiation, and the need to know if Sarah will activate herself. Up until now, Sarah has been unable to focus on her side of the partnership. She has casually and quietly dismissed his concerns. She appears to be the stable, decisive partner. However, her certainty is based in her fantasy of being taken care of without much effort rather than in the reality of who she is choosing and what that will mean for her own growth.
Please comment below. Did you think I was picking on her? Was I fair? Is it important for them to address this before getting married?
Ellyn Bader, Ph.D., is Co-Founder & Director of The Couples Institute and creator of The Developmental Model of Couples Therapy. Ellyn is widely recognized as an expert in couples therapy, and since 2006 she has led innovative online training programs for therapists. Professionals from around the world connect with her through internet, conference calls and blog discussions to study couples therapy.
Ellyn's first book, "In Quest of the Mythical Mate," won the Clark Vincent Award by the California Association of Marriage & Family Therapists for its outstanding contribution to the field of marital therapy and is now in its 18th printing. She has been featured on over 50 radio and television programs including "The Today Show" and "CBS Early Morning News," and she has been quoted in many publications including "The New York Times," "The Oprah Magazine" and "Cosmopolitan."
Tags:
confrontation
,
transcript
Forward to a Colleague