Peter Pearson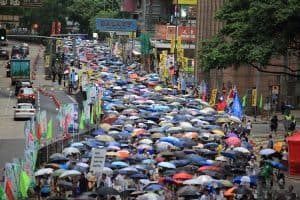 Dateline Hong Kong August 18, 2019
Protestor March, 5:03 PM
I am standing in front of a mall in the middle of Hong Kong as thousands of marchers parade by me in the rain.
No violence. No threats. No police brutality. Some chants in Chinese but not too much or too loud.
Some marchers are couples holding hands.
Some couples are pushing strollers with babies and toddlers getting an early taste of what it means to march for freedom.
They walk past me by the thousands. It seems like a never-ending stream of peacefully moving humanity. So far this parade has been 45–minutes long and still no end to it.
Watching this flow of frustrated freedom seekers, I feel as safe as I would on Sunday afternoon in quiet Menlo Park, California. 
But this freedom march triggers in me reflections of what would I march for. 
What am I willing to risk for beliefs that I take for granted?
What hill am I willing to die for if pushed to the limit?
Am I willing to bring my children at a young age to give them a visceral experience of marching for freedom?
How do I communicate to my friends, my family, my children that there are certain freedoms worth getting off my comfortable couch for, or missing the next football game or neighborhood BBQ? Skipping another Sunday afternoon adult beverage and hauling my carcass to take a stand for important freedoms? 
Too often I take for granted my illusion of democratic privileges. Thousands of people marching and chanting in the rain with their young children snapped me out of it today.
What would you march for?
Sacrifice for?
I hope you'll share your thoughts. I look forward to reading them in the comment section below.
Peter Pearson, Ph.D., Relationship & Teamwork Expert for Entrepreneur Couples
Pete has been training and coaching couples to become a strong team since 1984 when he co-founded The Couples Institute with his psychologist wife, Ellyn Bader.
Their popular book, "Tell Me No Lies," is about being honest with compassion and growing stronger as a couple.
Pete has been featured on over 50 radio and television programs including "The Today Show," "Good Morning America," and "CBS Early Morning News," and quoted in major publications including "The New York Times," "Oprah Magazine," "Redbook," "Cosmopolitan," and "Business Insider."
Tags:
freedom march
,
peaceful protests
,
sacrifice
Forward to a Friend
Forward to a Colleague