Thanks for listening to my interview on The Relationship School podcast, where Jayson and I discussed so many issues to help partners have better relationships.
A major theme was creating a stronger team as a couple. Because it takes two strong individuals to create a strong team, Jayson volunteered to let me walk him through an exercise.
He identified something his wife did that triggered him in ways he did not want to experience.
After a handful of minutes, he felt relaxed and energized instead of tense and constricted. We then talked about how he and his wife could use this tool to work together and be a stronger team.
We also covered the challenges of being married to an entrepreneur.
Please feel free to share the podcast and resources below.
This first link is to an article I wrote in 2002. The purpose of this document is to give couples an idea of what creates a flourishing relationship. Perhaps the most important element of relationship growth is the attitude and motivation for change.Teaching new skills and tools doesn't mean much if the attitude of one or both partners is, "My partner is the problem and the solution is for my partner to do most of the changing."The most important goals for growth do not start with what to change, but why we should change.

Change without a strong purpose will never last. Motivation precedes skill development.

I have found this is a good document even for people who I am not going to coach. At the end of this document are three questions for couples who are interested in beginning the process of becoming a strong team as they go through life.

Click here for Super Negotiation for Couples. Good negotiation is much more complex than having each person say what they want and then both compromise on something they hold important for the sake of peace.
I hope you found the podcast and these resources helpful.
Sincerely,
Dr. Peter Pearson
If you'd like more relationship or couples therapy training information, feel free to signup here.
"*" indicates required fields
You might also be interested in the following resources: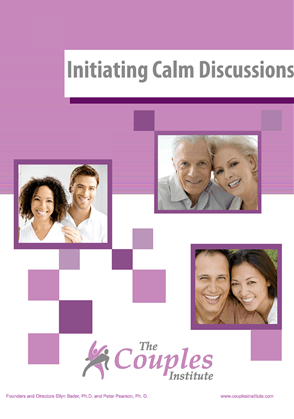 Did you know your brain complicates communication when the stakes are high? Learn how this happens, and how to bring up a tough topic while encouraging your partner to talk it through with you, in Initiating Calm Discussions.
Another resource you might be interested in is Beyond I Messages. Using a unique structure to guide you through your toughest topics, you can start discussing difficulties without triggering defensive reflexes in each other. You'll learn individual steps for initiating difficult discussions. You will also hear a live demonstration of a couple practicing this process. And we're teaching things that can help you even if your partner chooses not to listen!