Ellyn Bader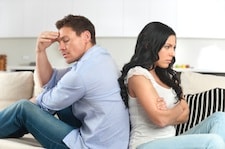 About a year ago, I wrote a series of newsletters dissecting one session with a particular couple. It seemed to motivate readers to exchange ideas on the blog. I'd like to revisit that format and ask you to think developmentally along with me, this time about shifting relationship impasses in a couple with the pattern of conflict avoidance.
Suppose this is a new couple that has come to see you. They've been married for 12 years after dating for 3 years and have 3 children ages 11, 8 and 6. They report feeling disengaged. They say they can handle logistics well, but there is no emotional or sexual intimacy. You teach them the Initiator-Inquirer process early in therapy and soon after you ask the wife to initiate.
I'd like you to read how it begins, consider my direction with the couple and describe what you are learning about them. In a couple of weeks, I will take you deeper into this session.
The wife has enormous difficulty initiating. It takes about 10 minutes for her to select a topic. Finally she starts.
Wife: I would like to go to Half Moon Bay for an overnight with two of my friends, but I am very afraid to ask you.
Ellyn: For right now, you are not asking him for something. I'd like you to express your desire much more. Why do you want to go?
Wife: I'd like to go because it sounds like fun and freedom.
Ellyn (to husband): Can you ask her to express more?
Husband: It is difficult for me. I don't want to hear more rejection. I can tell she doesn't want to go with me.
Ellyn:  Maybe yes, and maybe no. You are making a quick leap without finding out much about what the trip means to her.
Husband: Okay. What does it mean?
Wife (taking a long time to respond): It's an escape from chores, kids, responsibilities.
Husband: Maybe you and I could go together?
Ellyn: This isn't about finding a solution. This is about you starting to understand your wife better.
Husband: I'll try. What do you mean by escape?
Wife: A chance to do what I want. Read a book. Walk on the beach.
Ellyn (to wife): Will you tell him more about the escape you are craving?
Wife: Oh, craving is too strong a word.
Ellyn: Will you tell him about the freedom and fun?
Wife: It is hard to describe. I'm afraid you will get angry if I keep talking.  I make so many lists at home.
Husband: We do have fun at home when we all have dinner together.
Please involve yourself here on the blog. Click the "comment" link at the bottom of the article to write your observations:
•    What are the central dynamics that are emerging?
•    What are some thoughts in your head as you sit listening to them?
For now, don't think so much about your interventions. Think about what developmental capacities might help each partner.
And "hurray" for you for taking your time to contribute to a growing community of dedicated couples therapists!
If you like looking at the subtleties of couples sessions in this way, you can immediately do more in my online training program. You get written lessons and conference calls for the next 12 months, plus online access to all of the transcripts that I have taught previous participants. There are transcripts on 1) Getting Started: Organizing Complex Information, 2)  Addiction, 3) Infidelity, 4) Encouraging Differentiation in New Couples and many other important topics. To learn about this innovating training program visit Developmental Model.
Ellyn Bader, Ph.D., is Co-Founder & Director of The Couples Institute and creator of The Developmental Model of Couples Therapy. Ellyn is widely recognized as an expert in couples therapy, and since 2006 she has led innovative online training programs for therapists. Professionals from around the world connect with her through internet, conference calls and blog discussions to study couples therapy.
Ellyn's first book, "In Quest of the Mythical Mate," won the Clark Vincent Award by the California Association of Marriage & Family Therapists for its outstanding contribution to the field of marital therapy and is now in its 18th printing. She has been featured on over 50 radio and television programs including "The Today Show" and "CBS Early Morning News," and she has been quoted in many publications including "The New York Times," "The Oprah Magazine" and "Cosmopolitan."
Tags:
conflict avoidance
,
Half Moon Bay
,
Husband It
,
Husband Maybe
,
rejection
,
transcript
Forward to a Colleague