Congratulations, and here's your download of our Couples Guide to Holiday Stress Prevention.
We're happy that you're taking a positive step to improving your holiday planning, preparation, and communications this year - in your relationship and with your family.
This is the time of year that we spend so much time with couples on this topic in our practice, so we wanted to share this resource with you. We hope that you'll benefit from it and even share it with your loved ones, to prevent conversations that can spiral quickly out of control or to deal with those stresses that come up unexpectedly as they often do.
Sometimes when the relationship is already under stress prior to the holidays, additional resources can be helpful.
If you'd like to go deeper with difficult conversations both during the holidays and in your everyday life with your partner, we have an additional resource that might be of help. It's a PDF guide called Initiating Calm Discussions.
If your situation includes any of the following challenges, we think you will benefit from this resource:
You need to bring up some bigger, more difficult conversations than holiday topics - such as feeling overworked and underappreciated at home, not having enough time together/ not enough sex, or feeling like sports or the tv get more attention than you do.
One or both of you hold on to being right, are defensive, or competitive.
You don't know how to bring up a sensitive topic, because in the past it's always gone from bad to worse and there still isn't a resolution.
You see, when the stakes are high our brains complicate communication. We teach you how this happens and how to bring up tough topics with your partner while encouraging your partner to talk it through with you, in a more collaborative vs. combative manner.
You'll learn:
The one thing you must do or you will continue to have repeated fights.
Why almost any topic that's charged has the potential for activating a lot of stored distressed pain, and how you can fix it if it's your pain from a past discussion or even relationship.
Two specific roles you and your partner can use to improve these difficult conversations and stop a downward spiral.
How you must understand the three perspectives in every difficult conversation or it's likely you will struggle to make improvements.
Six steps that as the initiator you can prepare that will set the tone for the discussion, and even course correct if needed.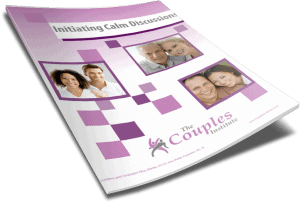 And finally, we're sharing an actual therapy session in which we've guided a conversation with a real couple in a more formal manner to ensure that each partner is understanding how they can best contribute.
The result? Shared understanding and connection!
If you're interested in learning more, Initiating Calm Discussions would be a good next step. And it's only $16.99.
© 1984-2021 The Couples Institute. All rights reserved.