WE ARE PLEASED TO ANNOUNCE AN UPDATED DIGITAL VERSION OF THIS RESOURCE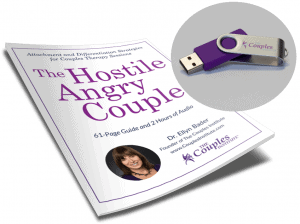 This set includes a USB drive with 2 one-hour seminars discussing The Hostile Angry Couple and a printed 62-page book.
This comprehensive collection of material will help you take a stronger leadership role and be more targeted in your interventions with angry partners. With the tools and skills presented here, you might even discover that you enjoy working with these couples who can otherwise be so intimidating.
You will learn to use Attachment and Differentiation Theory to:
Contain Conflict
Disrupt Symbiosis
Repair Relationship Ruptures
Address the Developmental Stalemate
Manage Aggressive Sessions
Require Development
Develop Yourself as a More Effective Therapist.
The USB drive has 2 one-hour audios. The printed book contains 1) written transcripts of the seminars for study or review, 2) Powerpoint slides from the original live seminars, and 3) client handouts for use with your hostile angry couples.
$59.00 through April 15 only, order now, regularly $79!
Here's what two participants observed about the session
"The transcript was absolutely fantastic. It really brought it home. It really helped me understand what it means to be hostile – and what keeps the cycle going." ~ Christian Hutcheson, Southlake, Texas
"I used this exercise about setting boundaries in conflict in a session last night. Before, I didn't understand how to get him to acknowledge his pain. But this opened it wide up. I was amazed."
~ Gail Gabriel, Pleasanton, CA