First Session After the Affair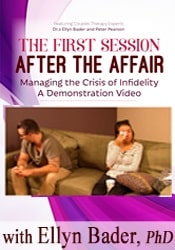 Watch Ellyn and Pete in an actual therapy session as they skillfully weave their way through the many challenges therapists confront in the tumultuous first session after infidelity:
– Avoid getting pulled into the blame/shame cycle.
– Stop the critical mistake of rushing to smooth things over.
– Keep from buckling under immense emotional pressure.
– Elicit insight and accountability without alienating either partner.
This 122-minute video shows the clinical session and, for maximum education value, also includes discussion-style explanation of what you see. You will learn strategies to carefully help your clients peel back the painful layers of deception and denial, and give way to the raw first stages of awareness, compassion and healing.
Tell Me No Lies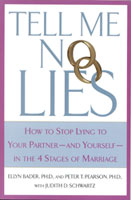 Everybody lies. Friends lie to friends. Children lie to their parents. And, inevitably, husbands and wives lie to each other.
While partners lie to keep their marriage together, in reality they're helping to destroy it. In Tell Me No Lies, Ellyn Bader, Ph.D. and Peter Pearson, Ph.D. lead us through the four stages of marriage: 1) The Honeymoon, 2) Emerging Differences, 3) Freedom to Explore, 4) Together as Two.
The book presents insightful case examples of couples who illustrate typical behavior patterns.
You will follow along as two couples—John and Sarah, and Paul and Mary—work through issues to build a stronger marriages.
Becoming conscious of the lies within your marriage through an understanding of when, how and why you lie, will help you make your marriage stronger.
Get First Session After the Affair and Tell Me No Lies for just $75.94
What Others Are Saying…
"Bader and Pearson boldly explore little charted territory in Tell Me No Lies. With brilliance, clarity and precision, they expose and explore the subtle, dark side of marriage: the everyday deceptions that erode intimacy. But they effectively help couples out of that darkness by showing them how facing truth builds a marriage in which intimacy is based on trust."
Harville Hendrix, Ph.D.
Author of Getting the Love You Want and Keeping the Love You Have