Video is an excellent way to see and learn. I recommend our DVD, The First Session: After the Affair. This resource shows Pete and I working with a couple after his 3rd infidelity is revealed. We teach and demonstrate how to manage the first session in the crisis of an affair.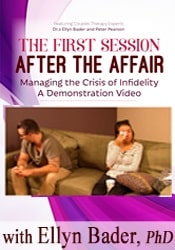 Avoid getting pulled into the blame/shame cycle.
Stop the critical mistake of rushing to smooth things over.
Keep from buckling under immense emotional pressure.
Elicit insight and accountability without alienating either partner.
This 122-minute video shows the clinical session and, for maximum education value, also includes discussion-style explanation of what you see. You will learn strategies to carefully help your clients peel back the painful layers of deception and denial, and give way to the raw first stages of awareness, compassion and healing.
Buy it now for $59.99