Peter Pearson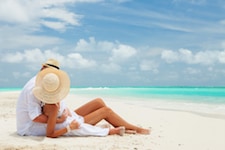 "Honey, I've been thinking. Nobody who says, 'I do' ever thinks they will split up. Yet 50% of marriages fall off the cliff. It seems like most of those marriages have a lot of arguments or unresolved conflicts. So here's my proposal.
Just tell me how you want me to be and I will devote all my efforts to being that way. If I become what you want, there will be no disagreements or conflicts. It will be like living in Candyland. Forever. What do you think?"
Do you think, "Wow, I can't believe my luck; I really hit the jackpot"?
Or do you think, "Yikes, if that happens then all the individuality, uniqueness, quirkiness and specialness will evaporate. Snoozeville. Nope, it's vive la difference for me."
Possible conclusion: differences are not the problem; it is how couples manage those differences as a team that determines how magnificent the marriage will be.
Imagine a basketball team where everybody has the same skill. They are the best shooters of all time but can't dribble.
This team will never become great.
Teams need different skill sets to become great.
So do marriages.
Teamwork and differences do the trick.
TEAM = Together Each Accomplishes More
Peter Pearson, Ph.D., and his wife, Dr. Ellyn Bader, founded The Couples Institute in 1984. Both are psychologists and directors of the Institute and have helped over a thousand couples in their work.
Pete is an engaging and dynamic therapist, speaker and writer. His work includes practical skills, advanced techniques in regulating difficult emotions and entertaining vignettes from his own marriage to demonstrate how some impasses are managed.
He has been featured in over 50 radio and television programs including "The Today Show" and "CBS Early Morning News," and quoted in publications including "The New York Times," "Oprah Magazine" and "Cosmopolitan." His popular book, "Tell Me No Lies," has been of critical help to many couples.
Category:
Couples' Blog
,
Newlyweds
,
Teamwork
,
Vision
Tags:
differences
,
newlywed
,
teamwork
Forward to a Friend