What Keeps Smart, Savvy Therapists
from Implementing Good Marketing Comfortably and Effectively?
Presented by Dr. Ellyn Bader, Dr. Peter Pearson and Casey Truffo
A teleseminar recorded in two parts. Get your copy today!
Getting more clients doesn't have to be grueling, and with this breakthrough approach, it's not.
Learn to feel comfortable in planning your business.
Follow through on activities that anxiety prevented you from initiating.
Experience emotional relief when taking marketing steps.
Use your new found confidence to create the practice you want.
In part one of this course, Dr. Ellyn Bader, Dr. Peter Pearson and Casey Truffo discuss what it takes to build a successful private practice.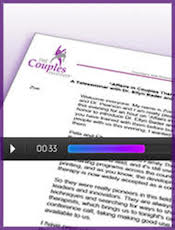 In part two, Dr. Pearson takes two volunteers through some simple yet powerful experiential exercises that you can do to get past the emotional and cognitive blocks to success.
All of the participants practiced the exercises at home during the demonstration. One person emailed us and said, "This class changed my life."
Not only will you learn how to feel and act comfortably on the activities you were reluctant to initiate because your anxiety was too high, you will also be able to experience immediate emotional relief on taking marketing steps.
Consider purchasing this transcript and audio if:
You are feeling stuck in your marketing;
You want more clients;
You want to understand why the emotional blocks to implementing plans have been so hard to overcome (HINT: it's much more than having limiting beliefs);
You want to understand the difference between having a part-time job, a practice and a business;
You want to stimulate your thinking and understand where the blocks to implementing good plans really come from;
You want to feel re-energized around the ideas of building your practice;
You want hands-on, practical techniques.
Drs. Ellyn Bader is Co-Founder & Director of The Couples Institute and have created a very successful business specializing in couples therapy and in training couples therapists. They have appeared on the Today Show, CBS Morning Show and interviewed by over 100 reporters from radio, TV, newspapers and magazines.
Casey Truffo, the Therapist's Business Coach, is the owner of BeAWealthyTherapist.com and offers training and coaching programs to teach therapists how to double, triple and even quadruple their cash-paying clients. She has coached therapists in 16 countries to build the practices they really want.
The investment for the audio recordings and transcripts of this two-part teleseminar is $97.
Buy it now, $97.
For less than 2-3 tanks of gas, you can learn what you need to do to get past your fear of marketing and begin to create the practice you really want.
How it Works
When you purchase your copy, you will receive 2 transcripts and 2 mp3 audio recordings. You can read the transcripts online and/or print them for later use. You can listen to the audio recordings online and/or download them. If you wish to create a CD of this teleseminar, you can download the mp3 file and burn one on your computer. We provide the audio recordings for you to listen to through the internet but we do not provide physical CDs.
This was a very popular call. Your facilitators are international experts on this subject who thoroughly enjoyed sharing their wisdom and experience on this teleseminar.
Satisfaction Guaranteed
There is no risk in purchasing the recordings and transcripts. If this program doesn't meet your expectations on how to think about growing your practice, then we will give you a full refund.
Yes! I want to learn how I can reduce my fear of marketing.
Buy it now, $97.
To purchase the audio recordings and transcript of these calls, click the buy button above. After completing your purchase you will immediately see the links to the audio recordings and the transcripts. Don't let the technology scare you. Our friendly staff will be glad to help you if you have any difficulties with it!