Learn a Breakthrough Model to Couples Therapy, Elevate Your Intervention Strategies, and Grow Your Effectiveness (and Your Practice!)
Uplevel Your Counseling Skills, Navigate Tough Situations, and Grow Your Practice
In Quest of The Mythical Mate is a 10-hour audio training of our world-renowned Developmental Model and a complete action-oriented kit for couples therapists who are ready to uplevel their skills and powerfully interact with clients.
Shipped directly to your doorstep, the kit includes a comprehensive roadmap for how to enter and transform a couple's world of rage, turmoil, and despair. You'll also learn how to navigate the toughest situations, and go from feeling insecure and unclear to rock steady confident in your interventions and suggestions. Increase your confidence and effectiveness as you guide your clients from being painfully stuck to creating lasting breakthroughs.
What's included in your "Quest Kit?"
+ You'll get access to over 10 audio hours of some of our BEST training material (delivered on a USB drive for easy access)
+ An interactive 100-page workbook
+ 50 Initiator-Inquirer cards you can use in your sessions and give to clients to reinforce their practice at home
+ 25 Stepping Stones to Intimacy brochures to help clients identify their own developmental stage
+ 100 Above and Beyond the Call of Duty cards to help couples stay connected and express appreciation
Here's a Sneak Peek at the Audio Lessons:
Learn to diagnose, assess, and intervene with couples in targeted and precise ways.
Learn to work effectively with conflict avoidant and hostile-dependent couples.
Learn to rapidly recognize the impasses and design effective treatment plans.
Use a take-home assessment and a 5-minute exercise to better target your interventions.
Get a strong start – and stop sessions from deteriorating into chaos and finger pointing.
Recognize common, crippling symbiotic expectations, and know what to do about them.
Use four ways to increase differentiation and keep a relationship alive and intimate.
Shift high volatile couples and uncover vulnerability underneath their angry defenses.
Integrate breakthrough process used worldwide to succeed with your most difficult couples.
Help couples communicate on their most sensitive topics and address developmental trauma.
Meet Dr. Ellyn Bader and Dr. Peter Pearson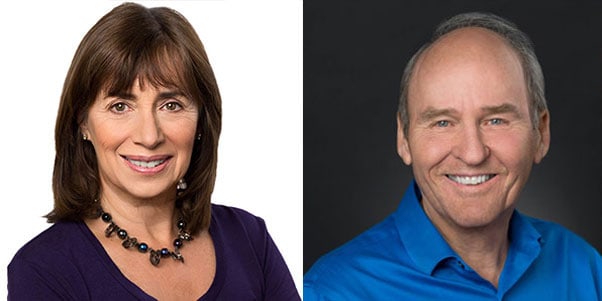 For more than 30 years, The Couples Institute founders Dr. Ellyn Bader and Dr. Peter Pearson have been helping couples create strong, loving relationships. They have helped thousands of couples overcome challenges and evolve as a couple and as a team. Their approach is known for its practical applications that help couples create enduring love.
Peter and Ellyn also have an impressive legacy in couples therapy training. They are creators of The Developmental Model of Couples Therapy, a model that teaches therapists how to assess, intervene, and significantly help troubled relationships. They have presented workshops throughout the United States as well as Europe, Asia, South America, and Australia, and Ellyn currently conducts an online training program that reaches professionals from 55 countries.
Peter and Ellyn are co-authors of two books. Their first book, In Quest of the Mythical Mate, won the Clark Vincent Award by the California Association of Marriage & Family Therapists for its outstanding contribution to the field of marital therapy and has been reprinted over 20 times. Their second book, Tell Me No Lies, was written for the public and has been inspirational to many couples.
Peter and Ellyn have been featured on over 75 radio and television programs including The Today Show and CBS Early Morning News, and they have been quoted in countless publications including The New York Times, Oprah Magazine and Cosmopolitan.
What Other Therapists Are Saying
"My introduction to your work through this CD program was astonishing and enlightening. I feel so much more prepared to SEE the dynamics of the couples relationship and more capable of hosting the couple's work."
Teresa McIntyre-Harlow, Ph.D., Diamond Springs, CA
"My ability to assess a couple's stage, and do appropriate interventions, has increased dramatically since listening to this CD set. Each time I listen to any portion of the set, I find material that I can immediately begin to use in therapy sessions. I highly recommend it for any therapist wanting to increase his or her effectiveness with couples."
Toni Crossen, MFT, Santa Cruz, CA
"I am already seeing results in working with couples, and I can see how valuable it is to be able to listen to the CDs over and over again at my leisure to really let the material sink in."
Jill Shugart, MFT, Berkeley, CA
"This CD set offers a unique opportunity to hear Pete and Ellyn explain the developmental model and show its direct application to clinical work. It enables the clinician to learn how to diagnosis and assess couples. These skills can be put into practice immediately. Drawing from clinical vignettes and their own personal experience the model comes alive. I am continually impressed by the way these presenters bring new depth and clarity to couples work. I have used this model in my practice and this CD set has provided fresh ideas to facilitate each partners growth that extricate me out of classic therapist dilemmas. Drs. Pearson and Bader provide a mental roadmap that the therapist can always return to to navigate the terrain of the couples therapy."
Rita Maynard, Ph.D., Portland, OR