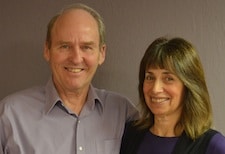 You learned about our Initiator-Inquirer™ process at a recent workshop. This process is used by couples therapists around the world to improve couples communication on difficult topics and increase intimacy and empathy through self reflection and disclosure. But it is much more than a communication tool. It is differentiation in action. Each person has to stretch to learn new ways of connecting. This is a communication structure that leads to enormous personal growth.
For more information on the Initiator-Inquirer™ process, including explanations and tips for couples who are practicing it, just enter your name and email address in the box below and click "submit." You'll be directed to a page where you can download this information. We'll also send your our free monthly newsletter on challenging issues for couples therapists.
Sharing our passion for couples therapy,
Dr. Ellyn Bader and Dr. Peter Pearson
Drs. Ellyn Bader has specialized in helping couples since the early 1980s. They are Co-Founder & Director of The Couples Institute, and continually receive industry and media attention for their innovations in couples therapy.

Privacy Policy